Fulfilling the UN75 Declaration's Promise: An Expert Series' Synthesis of Major Insights and Recommendations (June 2021)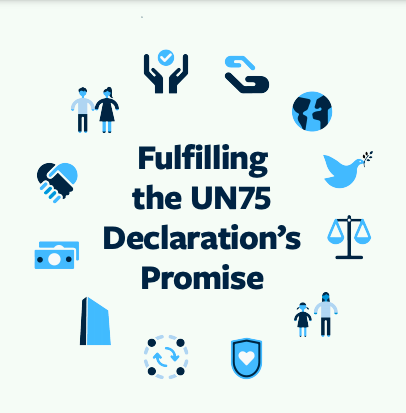 Convened from February through May 2021 by a consortium of civil society organizations, the Fulfilling the UN75 Declaration's Promise Expert Roundtable Series contributed independent insights, analysis, and practical, yet ambitious proposals for the Secretary-General's forthcoming Our Common Agenda report—expected by September 2021, prior to the UN General Assembly High-Level Week. For each session, innovative leaders from global civil society engaged UN Missions and Secretariat officials in a candid dialogue on progress, challenges, and further proposals needed to advance the UN75 Declaration. To this end, the six-part series took stock of progress toward achieving the twelve UN75 Declaration commitments, introduced alternative institutional, policy, and normative innovations for improving implementation, and considered steps for achieving such reforms, including a possible follow-on intergovernmental process as recommended in the Coalition for the UN We Need-Together First Eminent Persons Open Letter.
In this compendium, a not-for-individual-attribution synthesis of the major insights and recommendations from each of the six roundtables is presented and made available to both the United Nations and the global public-at-large. The expert series was intended to support the fulfillment of the UN75 Declaration's promise—as the international community faces a set of intersecting and intensifying global challenges—and broader efforts to strengthen and innovate global governance.