The year 2020 marked the seventy-fifth anniversary of the United Nations. It was also a time of deepening fault-lines in global governance, including renewed great-power rivalries,growing inequalities, rising nationalism and multilateralism increasingly called into question. The COVID-19 pandemic has also laid bare many of these global injustices and disparities. However the 75th anniversary reflections on the role and utility of the UN has given rise to a countervailing imperative, one that recognizes the need for more, not less international cooperation as well as a strengthened United Nations system.
The Summit of the Future in September 2024 offers a once-in-a-generation opportunity to renew and reform the UN and international cooperation more broadly. Civil society has a crucial role to play – – hence the genesis of a Global Futures Forum.
---
Background: From the Secretary-General's Call to Action to Our Common Agenda
Ahead of the 75th Anniversary of the UN, Secretary-General Guterres launched a Global Conversation, which spurred more than 3,000 civil society dialogues worldwide and surveys involving some 1.5 million people in 195 countries. The UN75 Office reported that the Conversation showed "overwhelming public support for international cooperation" and for a more people-centered multilateralism.
These civil society-led consultations fed into and shaped intergovernmental negotiations on the UN75 Declaration, adopted during High-Level Week, at the start of the General Assembly's 75th session in September 2020. . With this UN75 Declaration governments renewed their commitment to such global challenges as climate change, the COVID-19 pandemic, extreme poverty, armed conflict, disarmament, and disruptive technologies. At the same time, the Declaration directed the Secretary-General "to report back" within a year "with recommendations to advance our common agenda and to respond to current and future challenges."
In September 2021, the Our Common Agenda (OCA) report was released. Emphasizing ways to accelerate the Sustainable Development Goals and implementation of the Paris Climate Agreement, and benefiting from four tracks of consultations (which sought inputs from youth, thought leaders, civil society, and governments), the report outlined some ninety distinct recommendations across four pillars: a renewed social contract, a focus on the future, protecting the Global Commons and delivering global public goods, and an upgraded United Nations. Recommended ideas for taking forward this agenda include three global summits, seven high-level tracks, and the High-Level Advisory Board on Effective Multilateralism.
Source: Guterres, Our Common Agenda, 7. ©2021 United Nations.
---
Summary Timeline: Developments from September 2021 and Leading to the Summit of the Future
November 2021
Procedural Resolution A/RES/76/6 adopted to welcome and follow up on the Our Common Agenda Report.
February – March 2022
President of the General Assembly Thematic Our Common Agenda Dialogues.
April 2022
Secretary-General's High-Level Advisory Board on Effective Multilateralism Established.
June 2022
President of the General Assembly appoints Co-Facilitators;
Oman and New Zealand for the Summit of the Futures Modalities
Fiji and Netherlands for an Elements Paper on a Declaration for Future Generations
Egypt and Guyana for the UN Youth Office
July – August 2022
Consultations and negotiations take place on various tracks.
September 2022
Several negotiations wrap up in time for handover to the next session of the UN General Assembly including adoption of:
The Summit of the Future Modalities Resolution
The Elements Paper on a Declaration for Future Generations
The UN Youth Office Resolution
October 2022
The President of the General Assembly appoints Namibia and Germany co-facilitators of the Summit of the Future process for the 77th General Assembly Session, as well as Qatar and Ireland as co-facilitators for the 2023 SDG Summit. Consultations on the UN Youth Office and its purpose and design continue.
March 2023
Global Futures Forum convened.
Early 2023
High-Level Advisory Board on Effective Multilateralism releases their report.
September 2023
SDG Summit and Ministerial Forum on the Summit of the Future. Global People's Assembly convened.
March 2024
Global Futures Forum convened.
September 2024
Summit of the Future. Global People's Assembly convened.
October 2024
Summit of the Future follow through
---
Resources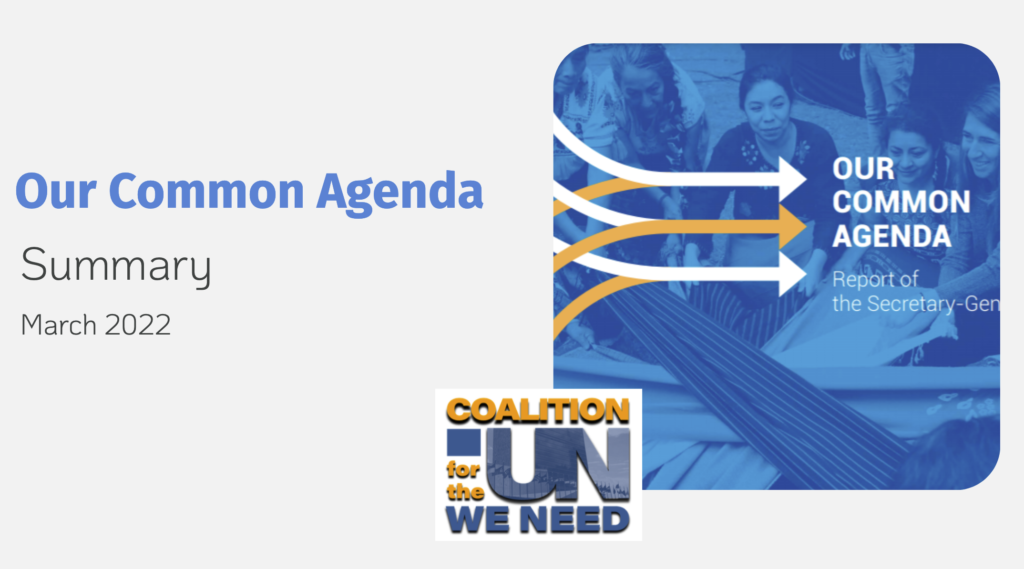 ---
---