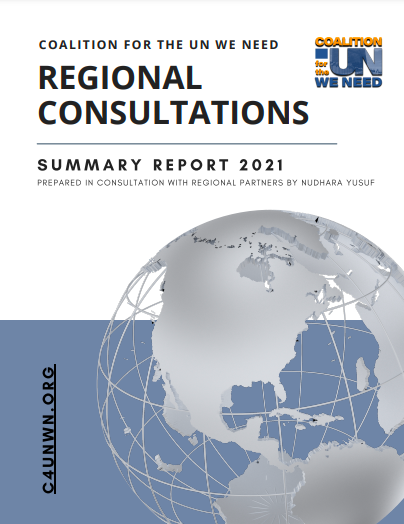 The Coalition for the UN We Need (C4UN) provides an open forum for civil society, member states and the United Nations to promote the renewal, innovation, and strengthening of the United Nations system. We support and initiate partnerships, activities, campaigns, information-gathering and sharing, progressive ideas, leadership, and advocacy that advance action on the UN75 Political Declaration and the UN75 People's Declaration & Global Plan for Action.
This report synthesizes C4UN's June 2021 regional consultations, conducted in the effort to better understand the priorities and specific needs arising in the various regions of the world, recognizing the diverse purposes and impacts that multilateral cooperation provides. By summarizing, analyzing and contextualizing these consultations, the report aims to both complete the knowledge cycle of the consultations as well as feed into future efforts of the Coalition and its partners.

Prepared by Nudhara Yusuf, in consultation with regional partners, on behalf of The Coalition for the UN We
Need, August 2021.