Framework for a People's Pact for the Future
E-consultation Registration
---
Please register to join a series of individual, two-week e-consultations we are holding to begin the drafting of a framework for a people's pact for the future (to serve as a complement to the Pact for the Future which Member States will negotiate as an outcome to the Summit of the Future). This document can also be found here (insert link to website).
The current round of e-consultations will help inform the recommendations we plan to offer Member States for ways to make the UN more inclusive and effective. There are seven mutually reinforcing 'tracks' which will then be further explored during the hybrid-format Global Futures Forum taking place in New York from 20-22 March (make sure you have registered here! And please consider sponsoring participants from your network who may require financial assistance to join!).
Each of the two-week e-consultations will serve to better understand what proposals are already in the discourse (week 1) and to begin to coalesce around the recommendations we wish to coalesce around (week 2). Each of these tracks has its own set of cofacilitators from civil society, youth leadership, and the think tank community in order to offer diverse and experienced facilitation.
In order to sign up for one of the groups, please request to join by one of two ways:
1. You can search the relevant e-consultation email address in googlegroups (groups.google.com) (much easier on us! – you can see the names of the groups below).
2. You can send [email protected] an email with the subject line "e-consultation" letting us know in the body which e-consultation(s) you would like to join.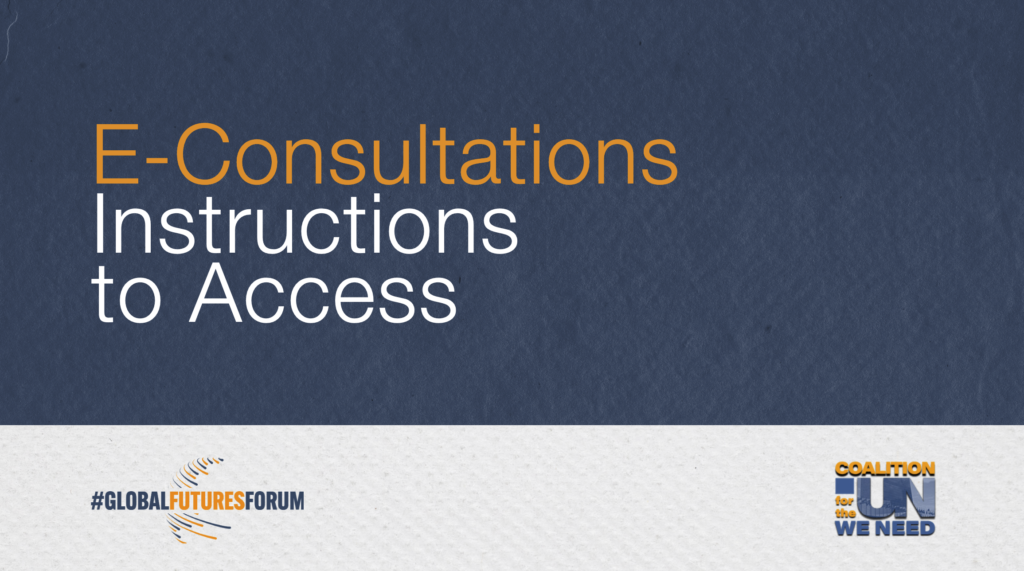 ---
E-consultation dates and themes:
1. January 11-24 Global Economic & Financial Architecture: [email protected]
2. January 18-31 Human Rights & Participation: [email protected]
3. January 25 – February 7 Development (HLPF, SDGs): [email protected]
4. February 1-14 Global Digital Compact: [email protected]
5. February 8-21 Environmental Governance: [email protected]
6. February 15-28 Peace and Security: [email protected]
7. February 22 – March 8 UN & Global Governance Innovation: [email protected]
Once you are registered with one of the groups, you will receive more information from your co-facilitators! Happy consulting!
---
The facilitators for each track are as follows:
Global Economic & Financial Architecture:
Brenda Mofya, OXFAM
Richard Ponzio, Stimson Center
Camila Tort, Youth Representative
Human Rights & Participation:
Anja Mihr, Center on Governance/OSCE Academy
Ishaan Shah, MGCY
Jeffery Huffines, C4UN
Development:
Javier Surasky, CEPEI
Georgios Kostakos, FOGGS
Khaled Emam, MGCY 
Eliane El Haber, UNESCO SDG4Youth Network Representative
Global Digital Compact:
Anna Kompanek, CIPE
Muznah Siddiqui, Stimson Center
Rory Mondshein, Humanitarian Focus Foundation
Environmental Governance:
David Woollcombe, Peace Child
Nandini Harihar, CEEW
Felipe Gallo, SPEED
Peace and Security:
Alyn Ware, PNND
Aline Burni, FEPS
Sofia Anton, Kofi Annan Foundation
UN & Global Governance Innovation:
Andreas Bummel, Democracy Without Borders
Vesselin Popovski, Jindal Global University
Enyseh Teimory, UNA UK